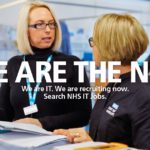 This year, working in collaboration with NHS England, NHS Jobs launched the 'We Are the NHS' national campaign to help promote IT and support roles at all levels within the NHS.
The campaign highlighted the thousands of vacancies in the NHS for administrative, clerical, IT and digital roles across the UK. It featured real-life NHS colleagues showing that you don't need to be on a hospital ward to help save lives.
There are over 360,000 vacancies advertised on NHS Jobs each year, a great deal of which are often left vacant. The NHS is not just about front-line medical staff, and there are opportunities for everyone.
The five-week-campaign proved to be a great success, generating an impressive 150,796 visits to a bespoke landing page on the NHS Jobs website: support-and-it.jobs.nhs.uk
Ian Hampton, lead campaign manager at NHS England, said: "The NHS Workforce campaign promoted a range of NHS roles to the general public, in the case of the recent IT and support campaign, for the first time. The response to this latter campaign has been really positive.
"Building on the success of our nursing recruitment advertising last summer, we launched a TV campaign to promote IT and Support roles in February, driving traffic to the NHS Jobs website. NHSBSA developed a bespoke landing page that fitted into the We are the NHS look and feel.
"This, in turn, delivered the remarkable 50% referral rate.
"We are delighted with this and the way the team have worked together to deliver this important work."
For more information, visit: support-and-it.jobs.nhs.uk