NHS Jobs: How to … allow candidates to apply with a CV?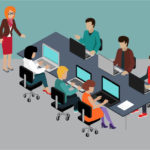 We've seen a steady increase in the number of applications made via CV, with 7% of all applications made on NHS Jobs now completed in this way.
CV applications are used for a range of roles different pay bands, contract types and staff groups from catering assistant to chief executive.

Here's a short guide to give a flavour of the functionality.
On the 'Add a new vacancy' page select the option for CV Application.
You can choose whether to make the CV attachment mandatory. Our top tip is to select this option as it allows you to complete your shortlisting, interview, offer and issue of contract using NHS Jobs. Otherwise, applicants will effectively only submit an interest in the vacancy and you'd have to follow up with them at a later date.
All applicants will still need to register for an NHS Jobs account and the application process will require them to complete the following mandatory sections:
Personal information
Supporting information (this is where they will upload their CV)
Monitoring information
Safeguarding
Submit and declarations
For more detailed guidance, log in to your account and visit the recruitment officers training section of NHS Jobs.
Remember you can also use your training site to practice the features and see how it works for you and the candidate.
Are you using the CV application process? We'd love to have your feedback on how this works for you.