NHS Prescription Prepayment Certificate (PPC) Services are going digital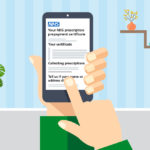 Hi there. I'm Business Improvement Manager for NHS Citizen Services. I've been with the NHSBSA for over 10 years, most recently as a 'Service Owner' within the digital and technology directorate. Our project team specialise in technology, service design and user experience (to name a few) and we're currently looking at how we can improve the NHS Prescription Prepayment Certificate (PPC) Service.
To put the project into context, last year, more than two million PPCs were issued across England by the NHSBSA. Quite a lot, right?
Thanks to those who have been providing feedback on the current service, we've been making great strides in developing and delivering a more streamlined and digitised service for those that need it.
I'll be telling you a little bit about these in this blog (please do read on!).
Let's start at the beginning, what is a PPC?
A PPC is a way for people with multiple prescriptions to manage the cost of their treatment. It lets you get as many prescriptions as you need for a set price. There is a 3 month certificate option which helps people with short term conditions or a 12 month certificate option for people with longer term needs.
People can manage the cost of the PPC by paying in full by debit/credit card or spreading payments for the 12 month certificate using a Direct Debit payment option.
How do you get a PPC?
A PPC can be purchased online, over the telephone or at a registered pharmacy. There is a list of registered pharmacies on our website. You can find out more here.
When a PPC application is completed the customer is sent a certificate in the post, they then use this to claim their exemption when collecting prescriptions.
Usually the certificate arrives within seven days but in some scenarios it can take longer.
We've learnt through extensive user research that the most frustrating part of the process for those applying for a PPC is the time it takes to receive it. This makes it difficult for people to prove their exemption if they are going to the Pharmacist to collect medication before it arrives. In some cases it can mean people waiting to collect or having to pay for their prescriptions (after paying for a PPC) and claiming a refund of these costs later.
This is where we come in.
Digitising
We want to make it quicker and easier for people to get a PPC. People do not plan in advance to be ill so access to help needs to be quick. We're starting this digitisation by updating our online service and sending the certificate via email instead of through the post. It'll be quick, real-time in fact, and will be in the individual's inbox in minutes. This will mean people won't need to wait to collect prescriptions or pay and claim a refund later. The new online service will follow government standard best practice design principles for ease of use, accessibility and security.
We are currently trialling this service and have sent over 65,000 instant email certificates so that people can collect their prescriptions straight away with great results.
Pharmacies registered to sell a PPC
We're told that approximately 90% of people find out about PPCs in their pharmacy.
There are more than 11,000 community pharmacies in England, 4,000 of which sell PPCs. Our aim is to increase this number so that those who are exempt from paying for prescriptions get the support that they need.
The bigger picture
The NHSBSA wants to support patients in the daily management of their healthcare needs. Allowing individuals to manage their prescription costs with a PPC is just one way that we can help them with their health costs.
We're also in the process of developing and raising awareness of another couple of our online services:
'Check what help you could get to pay for NHS costs' – this allows individuals to check their entitlement for help with their health costs by simply answering a few questions. Info here
'Check if you need to pay for prescriptions' – this allows an individual to check if their exemption certificate is in date. More info here
Further information
If you work in a pharmacy and are interested to know more about selling PPC, you can get more info here.