Creating a career pathway for veterans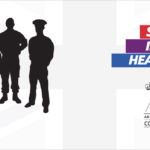 Hi there, I'm Rachel. I've recently joined the NHSBSA (last month!) and I've brought over 20 years of diversity and inclusion experience with me.
In this blog I'll be sharing how we're creating a career pathway for veterans, not just at the NHSBSA but the wider public sector. It's something I'm very passionate about and wanted to share it with you. So, here we go.
Supporting the Armed Forces in the NHS
The NHS employs a number of healthcare professionals and non-clinical staff who are members of the Reserve Forces, have previously served within the military or who have military personnel within their immediate family.
Yesterday, we held an Armed Forces awareness and pledge signing event at our head office in Newcastle. We welcomed colleagues from the Ministry of Defence, NHS Employers, Officers' Association and Careers Transition Partnership (CTP) who very kindly presented (more detail on this to follow) what this means for them. Some of our fantastic NHSBSA colleagues, who are veterans, also presented.
We hosted the event to celebrate our commitment to working with the Armed Forces to recruit and offer learning opportunities to ex-forces staff, but most importantly, to celebrate the signing of the Step into Health pledge and the Armed Forces Covenant.
What's the Step into Health pledge?
In a nutshell, Step into Health connects employers in the NHS across England, to talent from the Armed Forces community. We signed a Step into Health pledge yesterday to show our commitment to and increase the awareness of the value of employing (or offering placements to) those who are ex-Armed Forces employees. The benefits of doing so are forever on-going, from the transferable skills that they have to offer, how their values fit with those of the NHS to their proven commitment and dedication to helping others.
And the Armed Forces Covenant?
The Covenant supports employers to build their reputation as an 'Armed Forces friendly' employer. It provides the links and support to develop relationships with their local forces units and organisations.
Our VIP guests
We were honoured to welcome colleagues from across the public sector. They all offered guidance, knowledge and helpful tools that recruitment and HR teams need to support reservists employed within each of our workforces.
Below is a snippet of what each of our guests covered:
Pete Liddle, business development manager from Officers' Association, Jon Lee, employer relationship manager from the Careers Transition Partnership (CTP) and Darren Rhodes, Regional Employment Engagement Director from the Ministry of Defence all shared how their organisations have committed to ensuring that there are appropriate career pathways for veterans at all levels.
Nicola Smith, senior programme officer, from NHS Employers presented about the NHS Step into Health Programme (mentioned above). She shared the importance of having a bespoke programme to encourage veterans to join the workforce.

For veterans – it gives them a chance to find out and then decide what they want to do as part of their next chapter of their lives.
For employers – their attributes make them widely employable: teamwork, great work ethic and time management, ability and willingness to learn and adapt, experience of change and, in most cases, a decent sense of humour.
Our very own NHSBSA employees, James Hardy, client and stakeholder relationship manager, Emma Howitson-Morley, technical analyst and Peter Standfield, stakeholder and opportunity lead, also contributed:
They shared their own personal journeys from leaving the Armed Forces to starting their new careers.
Emma has recently written a blog specifically on this; 'Military Veterans, AWS and the NHSBSA'. Please do take a read
Wow, what a day
How fitting that we have hosted such a positive event so close to the Armistice Day centenary, and of course Remembrance Sunday which will be held this Sunday (11th November).
This is just the start of our commitment to the Step into Health pledge and the Armed Forces Covenant, and most importantly, it's helping to support veterans' transition into citizen services and (hopefully) make it a really positive one.
It's exciting to see that so many people share our commitment and it's even better to be part of an organisation that really wants to be recognised as an employer of choice.
My key take-away was that we need to utilise our existing staff veterans to help ensure new transitioning veterans feel fully supported when they begin their new journey with us.
Now, let's make it happen!
For further information regarding anything mentioned in this blog, please email Rachel Brown directly: rachel.brown51@nhs.net