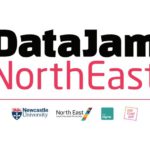 Just last week, Newcastle University's Urban Sciences Building hosted DataJam North East. This was the first of many events to start an on-going collaboration between the public sector, academia and beyond.
Why are they collaborating? To demonstrate the potential for improving life across the North East when it comes to data and collaboration.
Health, skills and child attainment…
…were the three key themes of the event. We were split into teams and started to share ideas and build real, data-led products that could potentially help change people's lives.
For those who don't know, Hackathons (hack), is where a number of people meet to engage in collaborative computer programming.
This was more than your typical hack event.
Why? It was a unique chance for 'digital gurus' across the public, private and charity sectors to share their experiences and learn new ways to analyse data and design services.
What does this actually mean?
Well, the days started with keynote speakers giving presentations about local projects and initiatives in data gathering and analysis. It was inspiring to hear about the impact that data is already having within society. A prime example is the development of the National Innovation Centre for Data. It's intended to be a beacon for data innovation, bringing Newcastle onto the world stage for big data and encourage everyone, particularly youth and members of the public, to get engaged with data and bridge the data skills gap seen across the UK.
We were then given the opportunity to pitch and present ideas for the discussion sessions (these are informal conversation starters for 'mini conferences' led by attendees throughout the day). The pitches were really imaginative and covered topics such as data ethics and how creative design fits in to data.
The hack
Each team were given the task of using large sets of data to identify and solve problems across the three key themes; health, skills and child attainment. I was part of a multi-skilled team from product owners, project managers and UX designers to developers – it was really interesting to see how people with different backgrounds bring unique ideas to the table. Microsoft software engineers were also on hand to assist with accessing the data sets (very helpful!).
Although interesting, it was pretty complex. If you were a data king or queen, this would have been right up your street.
The wonderful workshops
Newcastle-based agency Orange Bus, held fascinating workshops on User research and User experience design. They talked us through the great work they were doing on Smartcities (the use of technology and data to encourage more intelligent urban management). They showed us the research across the country that helped them discover ways that public services can better serve their citizens. I appreciated the frank and honest discussion about the challenges they faced and the findings they made – it's reassuring to hear that everyone gets and finds ways to overcome challenges!
Another workshop of interest was on voice technology, also by Orange Bus. I was very impressed with the work they had done to learn more about the application of technology, such as Amazon's Echo device. It was amusing to see the ways in which users had struggled to successfully interact with Alexa and how surprised they were when Alexa understood them. Some users particularly struggled to ask Alexa for recipes, travel directions and event information but found asking for music the easiest task!
Would I go again?
Definitely. The workshops were brilliant and the keynote speakers were inspiring. I can also see the potential in the hack and discussion activities and I think these will only improve through the years as the event goes on. I would thoroughly encourage everyone working within digital to check it out next time it's on!
Please contact NHSBSA.digital@nhs.net if you have any questions or would like to learn more.